We joyfully invite you to worship and grow with us.
St. Matthew is a vibrant, mission-minded church filled with families and individuals who love their church and believe in the Lord Jesus Christ. We celebrate Christ's love through worship, study, fellowship, nurture, and service. We encourage you to find ways to grow your relationship with God and others in our community.
St. Matthew is a "Safe Sanctuaries" congregation.
We provide a well-equipped nursery to lovingly care for children from birth through age three during Sunday School and both worship services. Both the baby room and toddler room are staffed with regular nursery workers to give children a consistent, comfortable environment. Parents are provided with a buzzer so that the staff can contact them if needed. In pretty weather toddlers can enjoy a playground adjacent to their room. Nursery services are also available for many other activities and special events.
Finding Your Way Around Campus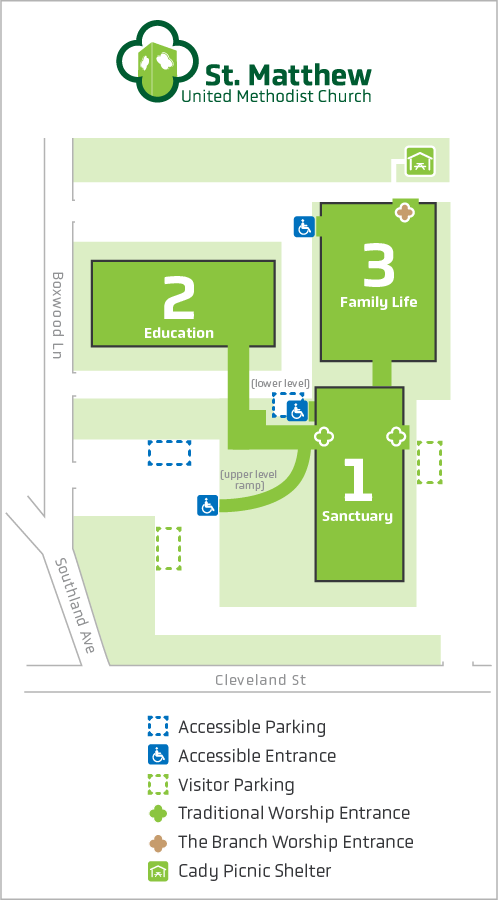 1 - The Sanctuary Building
The Sanctuary Building faces Cleveland St. and can be entered by way of steps on the YMCA side or a ramp on the side facing Southland Dr. The Sanctuary, adult Sunday School classes, reception room and choir rooms are located here. The church offices are on the lower level and are accessible through a separate door on the YMCA side.
2 - The Education Building
The Education Building connects to the Sanctuary Building by a walkway through the Bell Tower or a drive-through accessed from Boxwood Lane. All nursery and elementary classes plus pre-school facilities are in this building.  The Harper Chapel is on the second floor.
3 - The Family Life Center
The Family Life Center is behind the Sanctuary Building. The gymnasium, kitchen and fellowship hall are on the first floor, and middle school and senior high Sunday School classes and a game room are on the second floor.
Handicap Parking is available near the bell tower at the ramp and on the lower level between the Education and Sanctuary Buildings. There is an elevator in the Sanctuary Building.
Visitor parking spaces are available on both sides of the Sanctuary Building.
Driving Directions
St. Matthew is located at 701 Cleveland St. next door to the YMCA. From I-85, take Exit 51 towards I-385. Drive approximately 4.25 miles to exit 40B towards Pleasantburg Dr./SC-291 S. Head South on 291 and drive 2.3 miles to E. Faris Rd. Drive .7 miles and turn right onto Cleveland St. Drive .5 mile to St. Matthew, which is on the right.
Become a Member of St. Matthew UMC!
If you have questions about the responsibilities or benefits of full membership at St Matthew, Pastor Kurt or Pastor Chrisie would be happy to speak with you. Call them at the church office at 864-242-1966