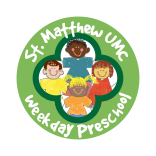 St. Matthew UMC Preschool is an outreach ministry of the church that serves the community. It provides a safe, happy, structured program in a Christian environment. We encourage children to grow physically, mentally, emotionally, and spiritually. St Matthew UMC Preschool is a place where children learn to work and play with others, develop skills at individual rates of growth, and express ideas through the many different activities.
Eligibility
Our preschool program is for children ages 2K, 3K or 4K (child must be program age by September 1).
Hours
9:00 am to 12:00 pm Monday, Wednesday, and Friday.
We also offer a late-stay program for one or two additional hours. Your child may stay until 1:00 pm or 2:00 pm every day or occasionally. Reservations are required.
Calendar
Our school calendar is based on the Greenville County School system.
Inclement Weather Policy
In the event that Greenville County Schools are closed or delayed due to inclement weather, St Matthew Preschool will be closed. We will re-open when the public schools re-open on regular schedule.
Register
For further information, to register, or to tour the preschool, please contact Christina Via, Director, at 864-242-2880 or cvia@stmatthewumc.net