St. Matthew Preschool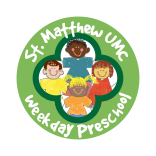 St. Matthew UMC Preschool is an outreach ministry of the church that serves the community. It provides a safe, happy, structured program in a Christian environment. We encourage children to grow physically, mentally, emotionally, and spiritually. St Matthew UMC Preschool is a place where children learn to work and play with others, develop skills at individual rates of growth, and express ideas through the many different activities.
Eligibility
Our preschool program is for children ages 2K, 3K or 4K (child must be program age by September 1).
Hours
9:00 am to 12:00 pm Monday, Wednesday, and Friday.
We also offer a late-stay program for one or two additional hours. Your child may stay until 1:00 pm or 2:00 pm every day or occasionally. Reservations are required.
Calendar
Our school calendar is based on the Greenville County School system.
Inclement Weather Policy
In the event that Greenville County Schools are closed or delayed due to inclement weather, St Matthew Preschool will be closed. We will re-open when the public schools re-open on regular schedule.
Testimonial
Our family has truly enjoyed being a part of the St. Mathew Preschool program for the last 3 ½ years. When we moved to the area in 2019 and toured the school, I immediately felt at ease. From the teachers and staff who I could sense right away were patient and kind, to the charming environment with painted walls and cheerful classrooms, I knew I had found a gem of a preschool and that this would be the perfect learning and social environment for my children. My daughter had only one season at St. Mathew UMC Preschool before starting kindergarten, but my son started in the Toddlers classroom and is now finishing up in the "Fantastic Fours". His preschool years have been filled with joy, and he always looks forward to the days of the week he gets to go to "school". I know that the positive experience he has had at St. Mathew UMC Preschool is the reason for his excitement around all things school related, and he is well prepared to continue at "big kid" school next year. The teachers work hard to make learning FUN and sprinkle the school year with so many additional fun filled activities. From pumpkin patch days to Easter egg hunts, we loved the seasonal rhythm of the curriculum, and the spiritual lessons at the heart of each unit. I recently received a kindergarten readiness checklist, and I am happy to say my son checked all boxes with flying colors: from holding a pencil, forming letters, writing his name, letter and number skills, to personal independence tasks and social skills, I can confidently say he is ready for kindergarten thanks to the staff at St. Mathew UMC. Thank you, St. Mathew UMC, for being such a big part of our lives these last few years. We will certainly miss this wonderful program.
Register
For further information, to register, or to tour the preschool, please contact Christina Via, Director, at 864-242-2880 or cvia@stmatthewumc.net